Social media is the best platform to change your life. It's where you can Fake It or Make It. You can have a terrible life but you Fake It on social media. Boom! Everyone thought you live the life to the fullest. Or ou can Make It, use social media to show your skills.
The thing is that you need to keep up to date with the new trend. You need to dominate the platforms, Twitter, Instagram, Facebook, and now TikTok. It's okay if you didn't get enough followers on the Big Three (Twitter, Instagram, Facebook). But since TikTok is now becoming a new trend, you can catch the wave and ride it.
This is your time to show the world that you can change your life through TikTok. Having a lot of followers means that you can turn it into new source of income thanks to endorsement. To do that, you need to know the best time to post on TikTok. It's the simplest basic rule to get everyone's attention.
The Best Time to Post on TikTok
Timing is important because it ensures TikTok's users see your new post in their feeds. You don't want your high-quality content disappear and doesn't get enough views and likes. The picture below suggest the right time to upload new vidoes on TikTok.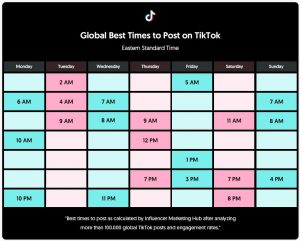 The best time to upload content on TikTok depends on where you live. So, the first thing you should learn is the demography of your audience. It helps you determine TikTok video upload time. To help you with that, you can snswer these questions:
Where's Your Audience Based?
You need to know where the big chunk of your viewers location based on your time zone and country. TikTok now offers Pro Account that gives you features, one of them is analytics where you can see the engagement rates.
The analytic feature helps you breakdown the followers, their gender, and also the top territories of your followers. Turn your account to Pro and get the benefits to grow TikTok followers.
When Is Your Audience Most Active?
Posting the content when the audience is most active gives you more chance to get more views, likes, comment, and even new followers. You can go to the Analytic tab and select Followers to find their most active time.
See the data and you'll find out the most effective time to post video on TikTok. Remember the days and the times to convert your follower activity hours into more engagement. Keep this rhythm and after one week, track and measure the performance.
This is the final step to understand the best time to upload video on TikTok. Most people forget this final step as it's time-consuming. But for you, it's your chance to optimize your brand.
You can go to the Content tab and you'll see the posts' performance over the week. You need to be able to understand the data metric such as the traffic source time, average watch time, and also total views. Check the overall performance report; comments, likes, and shares the video received.
Scroll down to the Audience Territories to find out where the views came from. It would be better if you write down those reports on spreadsheet so you know how often should I post on TikTok.